Spirit of Adventure Overview
Reel Kingdom, together with Pragmatic Play has released a new slot game called Spirit of Adventure. A game that uses a 30's plane theme with a female main character. Which feels a bit like an Amelia Earheart type of explorer.
On this game you'll find standard card symbols, different relics and gems.
The game uses 5 reels that are each 3 symbols high and comes with 10 lines.
There are bonus symbols that appear on all reels and also a special island symbol that may appear on reel 3. Wild symbols only appear during free spins.
The maximum win for Spirit of Adventure is 5.100 times your bet.
Spirit of Adventure Features
Free Spins Feature
You are able to trigger the free spins feature in two different ways. Either hit 3, 4 or 5 bonus symbols to receive 8, 10 or 12 free spins. Ot hit the special island symbol on reel 3 to instantly win 12 free spins.
During free spins all relic symbols will have cash values on them between 2 and 5.000 times your bet.
A random wild symbol will be added to the reels which will roam around after each free spin and land on a new spot. The value of any relic symbol landing horizontally, vertically or diagonally next to this wild symbol will be collected and paid.
Each relic symbol that is collected is also added to its own meter in top. Each relic, and there are 4 of them, has its own meter. Collect enough relics of a certain type and the values of that relic will increase.
Swords – collect 4 and all swords will now pay x2
Discs – collect 4 and all discs will now pay x3
Chalices – collect 3 and all chalices will now pay x5
Masks – collect 3 and all masks will now pay x10
When you have filled a meter from a specific relic you are awarded with 3, 4 or 5 extra free spins. But you will never reach more free spins than you initially won.
After all free spins are over a special totem symbol is added to the reels. This will also roam around, just as the wild symbol. The free spins will end when they both land on the same spot.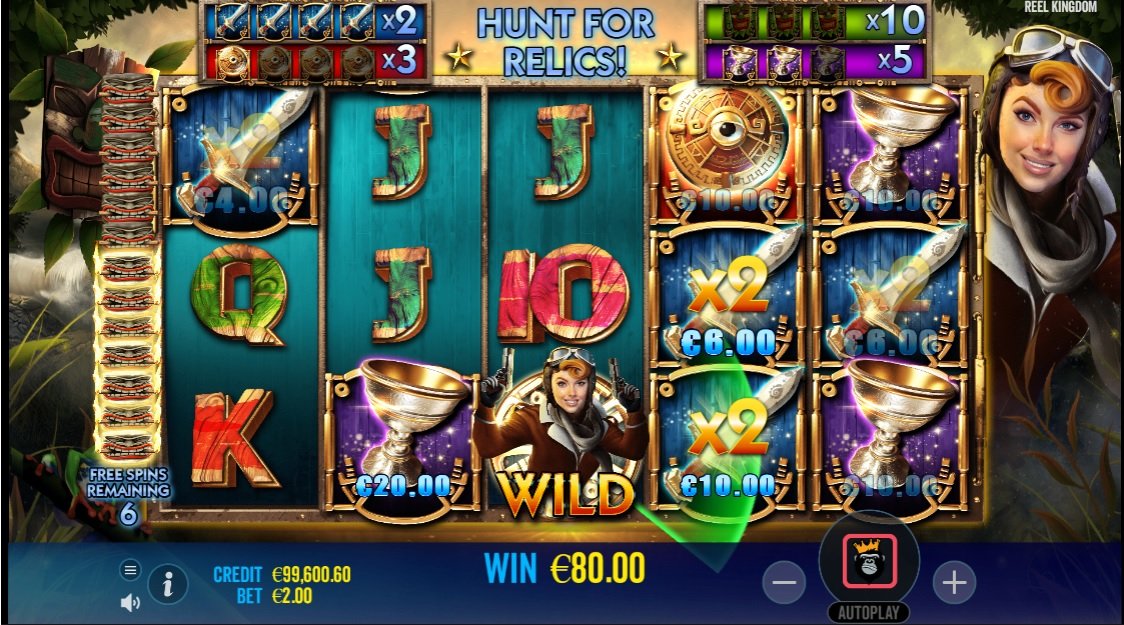 Mystery Prize
If your total win during free spins is less than 2250 times your bet. You can either take your winnings, or pick a random cash reward. This can be less or more than what you accumulated during free spins.
Bonus Buy
Some casinos will offer the option to buy the free spins feature for 100 times your bet. This will guarantee 3, 4 or 4 bonus symbols.
Verdict
First let me say that I think it's a pretty fun theme that hasn't been overdone yet and it also fits the features.
The base game is a bit boring. But the free spins feature is a lot of fun. It's one of those features where you have to collect symbols to improve the bonus. And the improvement can be amazing if you manage to fill several of those relic meters. I always like these types of bonuses.
And if your bonus sucks, pick the mystery prize. On the screenshot above I decided to pick the mystery win and was awarded with a 1100 times my bet win. Huge! Of course this was in demo play, so I'm not sure if you want to risk it with real cash. But when the bonus is very low I would always try.
I think it's a fun game, but only the free spins part. The base game is pretty boring. But can award big wins because you are playing on only 10 lines.
Check out Spirit of Adventure at Casino Heroes>>, Boom Casino>> and Simple Casino>>.